Our Hotel
On the banks of the river Kocher, with a panoramic view and opposite the Old Town, the Ringhotel Hohenlohe welcomes local guests, visitors of the open-air light shows, wellness holiday makers and business travelers from all over the world with open arms.
Our modern family enterprise is one of the leading private 4 star superior hotels in Germany, and has been cultivating Schwäbisch Hall traditional hospitality for two generations.
Whether you are here on business or as a private guest: we look forward to doing our utmost to welcome you in our home town, rich in history and a haven for art and theatre lovers.
Whether for a conference or a celebration – we can organize the complete programme.
In the mood to celebrate
In the mood to celebrate
Hard-working, fun loving and connoisseurs of enjoyment right from the start – that describes the people from our region. The panorama restaurant, the bistro bar, the hotel lobby with its front-cooking-area, the covered terrace and five completely refurbished banquet rooms for up to 120 guests are the ideal location for festive receptions, after work parties, family celebrations and dream weddings.
A business hotel radiating comfort and well-being
The magic word is flexibility as far as the professional organization of conferences, seminars and meeting in our "Certified Conference Hotel" is concerned. This applies to both our self-sufficient conference centre and to conference and banquet rooms in the main building as well as to the rich range of culinary options, the service and supporting programme.

More info
Our culinary winning formula:
only the best ingredients, creativity and competence
A seasonally balanced, high quality and regional cuisine is at the top of the menus of both our chefs. We value light, fresh ingredients and regional specialities. We are very fortunate that Mother Nature has been so generous to us here in the Hohenlohe country!
A real highlight is our amazing breakfast buffet and the haute cuisine in the Panorama Restaurant, the Bistro Bar "jenseits Kochers" or on the covered summer terrace.

More info
50th Anniversary Hotel Hohenlohe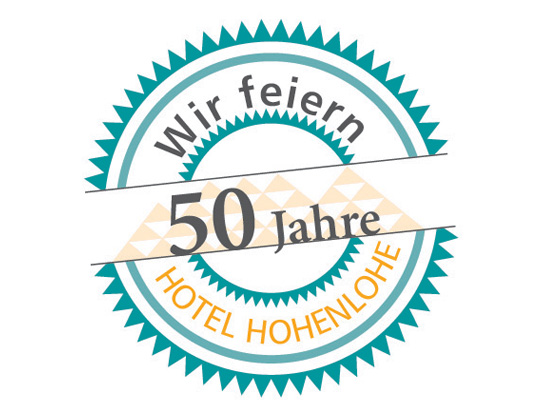 The art of being a great host
In 1968 Theo Dürr, a member of a long-established family of hotel keepers in Hall, and his wife Sigrid, opened the "Hohenlohe". They started off with 41 hotel rooms, a small restaurant and big plans for the future.
50 years later, and many roofing ceremonies on, our "Hohenlohe" has become an institution in Schwäbisch Hall: "Ring Hotel" right from the beginning in 1973, sought-after business partner, fountain of youth with its "WellnessStar" certificate, and host of fabulous New Year's Eve parties. Always looking firmly to the future, but without losing sight of what really matters: the value of hospitality and the guests' wellbeing.